Sometime in the middle of night we lost an hour this past Saturday. If you went to bed at 11pm and got 8 hours of sleep, you woke up at 8am. I've been mulling this antiquated change over the last couple days and haven't reached a conclusion about it. One thing's certain, the change in chronography has harkened the start of spring, with the "longer" days and all.
Temperatures have been climbing as well. After an overnight low of 19, it climbed to 45 this afternoon. (Tomorrow, it's supposed to hit 50 and by the end of the week it should get up to 60!) This creates a challenge for bike commuters. Clothing required for temps in the low 20s are dramatically different from what's needed in the mid 40s. Today, when I got back to the car, I was sweating pretty heavily, in my Columbia coat and two layers on my legs.
So, it seems clear, this is the advent of spring. The snow is melting. They days *are* getting longer. The air is warming up. It's a pleasure to ride any time, but the spring time is especially nice.
I am happy to report that last week, I did ride 5 of 7 days (4 of 5 park-n-cycling to work + a ride over the weekend). And I love how I feel when I finish even the short rides. The adrenaline... and the endorphines... have kicked in. It feels great. I'm loving life and #lovingthebike.
And here is the bike I use on the commute. Meet DB:
Just added the fenders this week - a good thing, with the melting snow. Next up a rear rack and panniers, so I don't have to sling a messenger bag over my shoulder.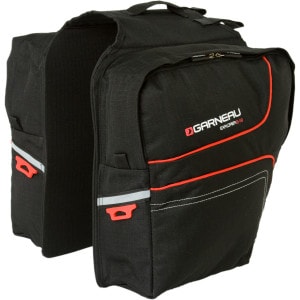 Something like these would be perfect - and they're only about 25 bucks!
Are you ready to ride this spring? If you are, keep the rubber side down! If not, I encourage you to dig the bike out of the garage and tune it up. Spring is here! Happy cycling!