This morning was perfect for early ride before getting ready for work. I woke up before my 4:15 alarm and checked the weather on my iPhone. 63°F and partly cloudy. I got dressed and took the dogs out before heading out. The air was calm, if a bit humid, but it was nice out. I decided to go only with shorts and jersey - no base layers or arm warmers today! There'll be plenty of days for those coming up.
At 4:35, I mounted up and headed out. (I use two headlights - a stronger one to see and another I set on flash mode to be seen. I also have a flashing taillight and a light strapped to the back of my helmet so I'm visibile.)
When you first start out on mornings like this you get a bit chilled until you get your motor warmed up. It usually takes a mile or so. Before you're warmed up, you second guess your clothing options. I thought about turning around to get arm warmers. But didn't.
This morning, there were some patchy areas of light fog. Nothing too bad. I could certainly see and be seen.
County Highway M is a nice road to ride, I think. Recently repaved, with wide shoulders (at least 4'), its pretty smooth. I was riding west on Cty M from Highway 113 to Middleton. About 2 miles from Hwy 113, just past Cty K, the road bends left and goes up a hill as you pass Governor Nelson State Park. The climb is about 70' - pretty easy (but remember, that's about the height of a 7-story building). As I'm riding, I'm focused on the patch of shoulder illuminated by my headlight and also paying attention to the car traffic.
Near the top of the hill, just as I ride past it, I notice something on my right. In the patchy fog, I recognize it - a bicycle painted all white. A ghost bike.
It was recently left there, chained to the speed limit sign post. I continued my ride, but kept thinking about the ghost bike (which, in the fog and early morning darkness appeared like a ghost) and the news stories I read about a recent accident in this area. My route took me back to the intersection of Cty K and Cty M just north of the ghost bike. Instead of turning left to head back towards home, I turned right. I wanted to get a pic. I wanted to write this post.
The sign attached to the top tube reads "RIP Carrie Pete." Carrie was struck by a pickup truck on October 8 at about 11:40 a.m. The driver had fallen asleep. (
News stories are linked here
.)
I don't know Carrie. Never met her. But I do know that she is a special person to someone else. She is someone's daughter. And/or someone's wife, and/or sister, and/or mother, and/or friend. (
Obit here
)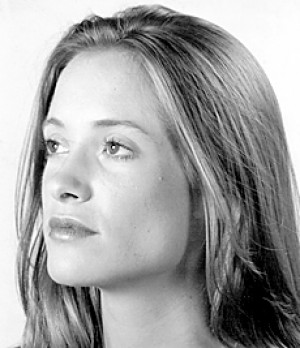 Carrie Jo Pete
What I do know is that she died senselessly. I'm sure the driver didn't mean to hit her. And I'd bet that it is tearing him up. Ironically, she may have saved his life - the collision may have prevented him from going into the ditch and wrecking.
So, this is a plea, dear readers (both of you). Share the road. Drive attentively. Don't drive drunk or (just as bad) when you're sleepy. And share the road. Cyclists
DO
have a right to ride on the roads (we do not belong on sidewalks). And remember, when you see a cyclist, he or she is not an inanimate object. He or she is someone's child. Someone's lover. Someone's friend. Someone's Carrie.
Rest in peace, Carrie.